Caregivers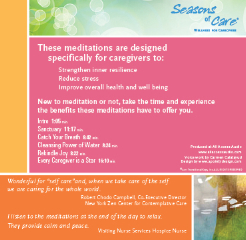 Keys to Caring: Wellness for Caregivers - our products and programs to support and provide care for caregivers—ALL caregivers; family, professional, paraprofessional, and volunteer caregivers.
ALL caregivers need to take some time, and care for themselves.
Programs
Keys to Caring: Wellness for Caregivers
Keys to Caring provides practical tools within a holistic and wellness approach to caregiving, including the spiritual dimensions of mindfulness and compassion.
In this experiential program we will use group facilitated experiences, guided visualizations and meditations, role playing scenarios, rituals and ceremonies for self-care, grief and letting go, creative movement and music exercises, writing exercises and storytelling.
You will discover:
Creative strategies and techniques to derive psychological integration
Tools for renewal and hope
Wellness techniques to avoid burnout
Spiritual rewards often inherent in caregiving
A path to explore after the role of caregiver
Please contact us about our programs and products for caregivers, Keys to Caring.